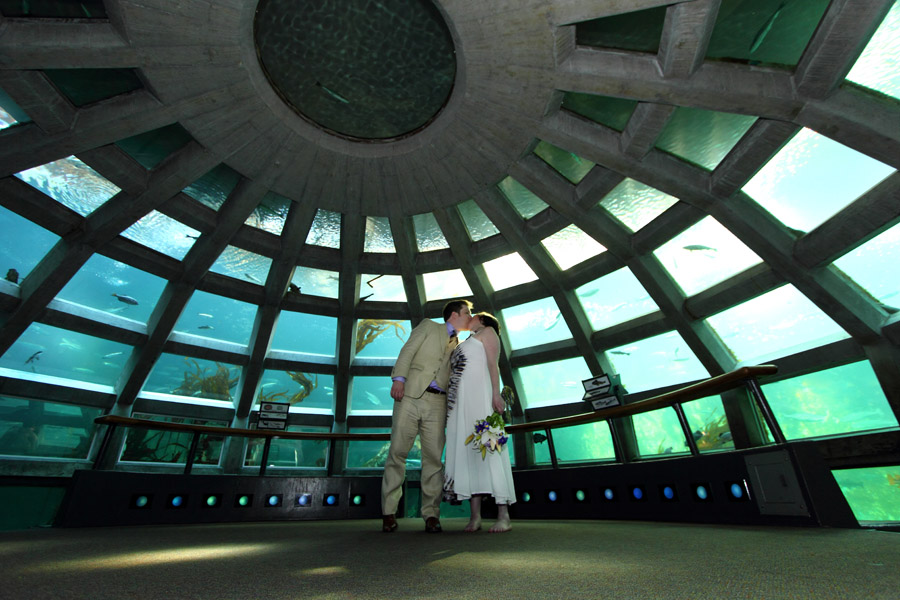 Katie and John got married on a beautiful sunny day this June at the Seattle Aquarium.  But, first they wanted to swing by Victor Steinbrueck park up by Pike's Place.  Why?  Well, they had a mission – share a kiss on their wedding day in the place where they shared their very first one.  :)  I can tell you – it was an adorable.
They've been together for a long time, and weren't planning on doing the typical frilly white wedding.  Instead, they wanted to throw a big party for all their friends and family, so that everyone could get together and have fun.  So, when the idea of the aquarium came up – they were sold immediately!  Because really, what's more fun than having the aquarium all to yourself?
They married each other sans officiant on the deck facing the Sound.  Afterwards, they got to watch the otter feeding, peruse the exhibits, and then sit down to a beautiful dinner in view of the giant fish tank.  The night wrapped up with a round of board games, chocolate fondue, and good conversations.
It was such a fun night, and definitely suited their plan perfectly!  (Don't overlook the dice as party favors.  Totally steal-able idea!)
And Now – The Photos!