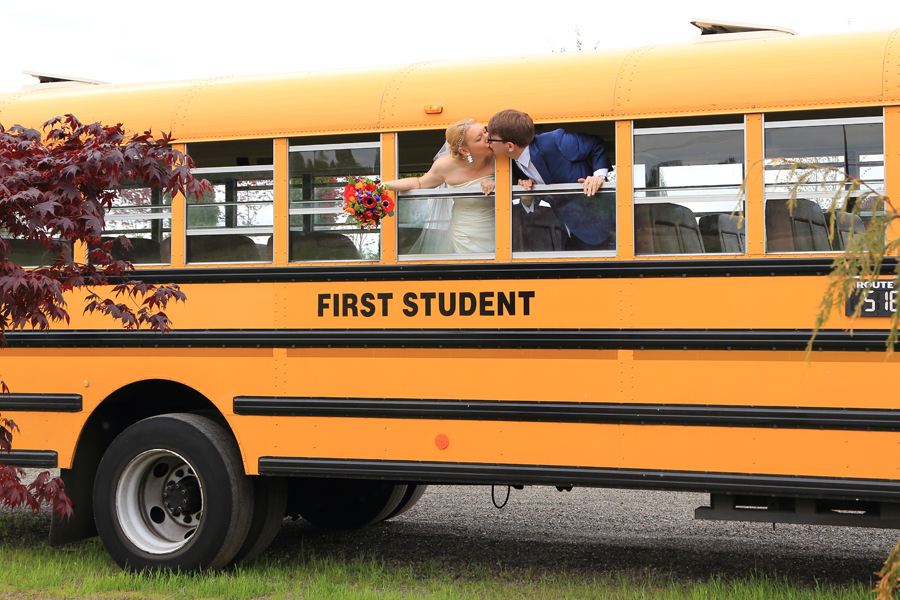 Mary and Josh were destined to be.  A mutual friend saw it long before they even met, and when she finally was able to introduce them they clicked right away.  Josh was from California, Mary from Texas… and they decided to build their life together here in the Seattle area.  They got engaged, bought a house, and this last weekend they celebrated their wedding with friends and family from all over the US at Dairyland in Snohomish.
The details were so much fun!  The venue is an old dairy farm, and Mary embraced that completely with their decor.  She spend months collecting old milk bottles to hold the flowers for the centerpieces, and their place cards were strung above a cow cutout near the entrance to the main barn.  The bright flowers and cobalt glass mixed perfectly with the white, rustic backdrop that is Dairyland.
They were both so full of smiles (and a few tears).  Every time I turned around, there was another little moment to capture.  Mary picking flowers from her bouquet to put in the flower girls' hair right before walking in to the ceremony.  Josh one-upping a friend trying to tease him.  The bride's mom roasting marshmallows for s'mores in her formal dress.  Perhaps my favorite moment being when the driver of the school buses they'd hired to transport their guests presented them with a four-leaf clover.
The whole day had an air of magic to it.  It was beautiful in its simplicity, and we were honored to be part of it!
And now – the pictures!
The Wedding Vendor Team
Photography – Melissa Miksch Photography
Coordination – Blush Celebrations
Venue – Dairyland
Catering – Barking Frog
Alcohol – BevMo
Cake – Carrot Cake by Mike
Sound Rental – Darga Media Group
DJ – Shu Latif
Officiant – John Edgerton
Flowers – Columbia City Bouquet
Hair & Makeup – Hanna Mazur
Transportation – First Student
Wedding Night Accommodations – Hotel Max