Are you recently engaged and starting to plan your wedding? (If so, OMG! Congratulations!!!!!!!)  If you haven't already figured it out, wedding planning can be so much fun, and yet simultaneously so overwhelming.  And if you're not a natural party planning, crafty, creative type… it may just feel like too much to deal with.  So, for those of you looking for a little bit of creative inspiration to get you going, here's some fun and unique ways our clients have brought a little personality and imagination into their wedding days.
1. Signs & props
Props don't have to mean chalkboards, despite what Pinterest says.  These couples both incorporated objects into their photos that added a nice personal touch.  The groom's truck added an element of fun for Sandi & Simon.  Jen's dad put a lot of love into making her "&" sign, as well as some other pieces for her wedding.
2. Including your 4-legged best friend
Izzy was super excited to help announce her human's wedding.  If you don't want the hassle of including your pet in your wedding itself, including them in your engagement shoot is a great way to keep them from being left out.
3. Going for the comfort/fun factor when it comes to shoes
If you're going to make your bridesmaids jump up in the air, at least be nice enough to let them do it while wearing some pretty colored Chucks.  (We've also had brides wear Tom's, boots, slippers, and even hand-felted elf shoes.)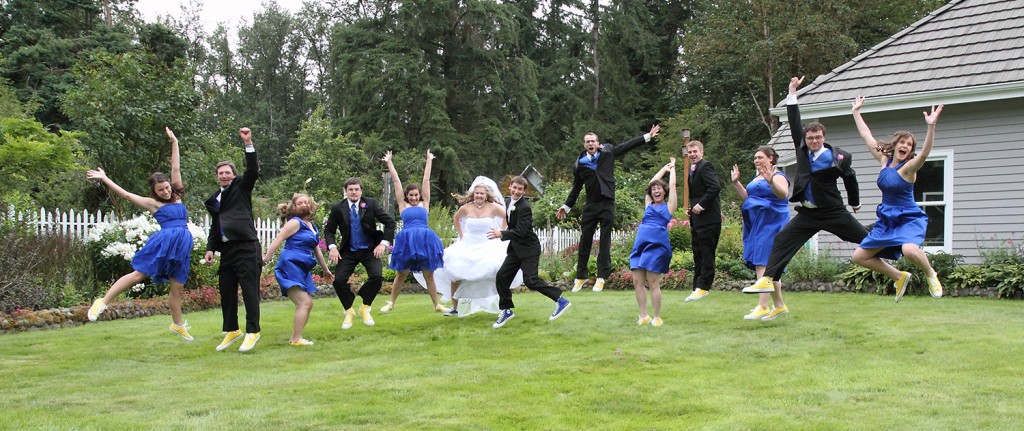 4. Skipping the wedding cake or cupcakes, and going for pie or cheesecake
Don't like cake?  Have a dietary restriction against it?  Laura and Seth served two kinds of pie with locally made ice cream.  Nobody complained, and it was all eaten!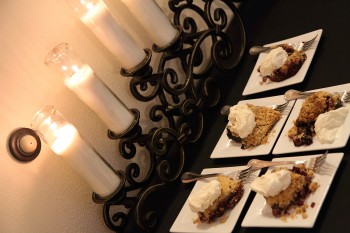 5. Having a bouquet that is made out of something other than flowers
Nadia wanted to incorporate her mom's wedding dress into her day, but it was damaged and not the right size anyway.  Her solution is borderline genius!  They made roses from the fabric that they then incorporated into her bouquet and pinned onto her dress.  Jackie did away with flowers altogether, and carried a bouquet of dried grasses and feathers that complimented her country theme beautifully.
6. Going all-out with a holiday or seasonal theme
Kahla and Brett got married on Christmas Eve, and went all out with the theme.  From evergreen kissing balls for the bridesmaids, to the gingerbread people cake topper and Christmas trees in the reception hall, their theme permeated everything and really made all the little details pop.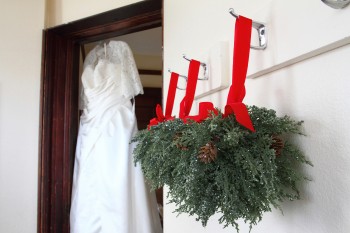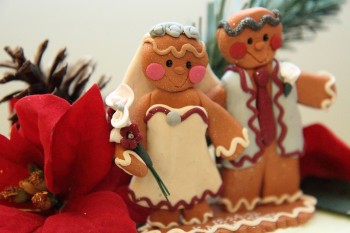 7. Dove release
Want that wow factor at your outdoor wedding?  A dove release almost always gets big smiles and the conversations going.
8. Life-size cutouts instead of a photo booth
If you don't want a photo booth, but still want to encourage your guests to be silly and have fun, getting life size cutouts of a couple of your favorite stars might be just the ticket.  Darlene and Jim had Audrey Hepburn, Daryl from The Walking Dead, and a velociraptor.
9. Strawberry shortcake kabobs (!!)
Dessert on a stick.  Do we need to say more?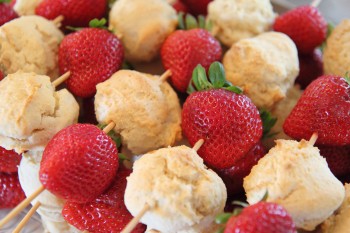 10. Alternative groom's attire
Everyone talks about variety with what the bride wears, but what about the groom?  Lamin, the groom, and his attendants wore traditional dress for his wedding to Melissa.  We've also seen guys in kilts, khakis, and even Hawaiian shirts.
11. Having a super small, intimate wedding
We've photographed several super small and intimate weddings.  There's just something really special about a wedding with only your closest friends and family there.  Bonus tip: rent out a gorgeous vacation rental to hold the wedding at, and you have a built in honeymoon location!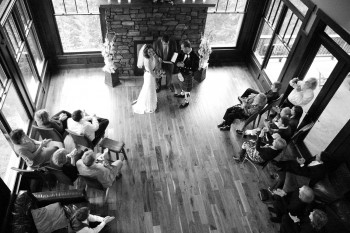 12. Groom carries bride back down the aisle after ceremony
Carrying the bride over the threshold is so 1978.  But this is a new millennium, and now the groom carries the bride back down the aisle.  At least that's what Zach says.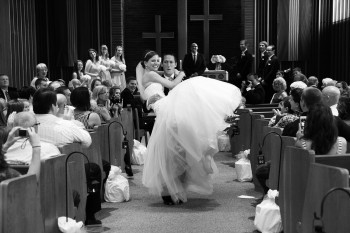 13. Clowns
Full disclosure, Kathy and Mike didn't actually hire a clown for their wedding.  But when they heard that one was in the building for a first birthday party, they totally jumped at the opportunity to take their photo with him.  If only he'd been the officiant….
14. Karaoke reception
Not into dancing, but want your guests to be engaged and entertained at your wedding reception?  Yani and Glenn hosted a karaoke party, and it was a total hit.  Winning performances were tied between the newlyweds singing "Can You Feel The Love Tonight" and the groomsmen singing "Girls Just Wanna Have Fun."
15. Honoring your favorite sports teams
Seahawks. Theme. Wedding.  Let's just say Taylor is one lucky guy, and we hope he knows it.
16. Including memorabilia from previous ceremonies
Sara and Jill were married in Canada in 2007, and had a domestic partnership in Washington.  But when the laws changed, they decided to get married in their home state of Washington, something they never though they'd be able to do legally in their lifetime.  At their reception were several items from their wedding in Canada, including their original chuppah and ketubah, a giant totem their guests helped carve, and even their original officiant.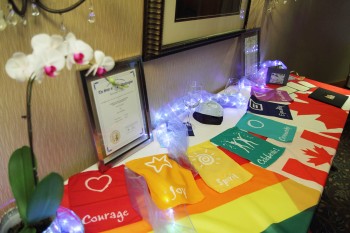 17. Get married somewhere really special
Getting married someplace that means something special is always a great way to add a personal touch to your wedding.  Ayla and Ray married at her parents' home, which also happens to be where her parents married when she was little; Sara and Zach were married in the same church both Sara's parents and grandparents were married in; and Erin and Bill got married at their home looking out over the water.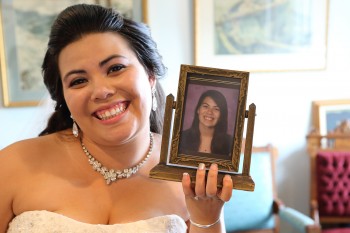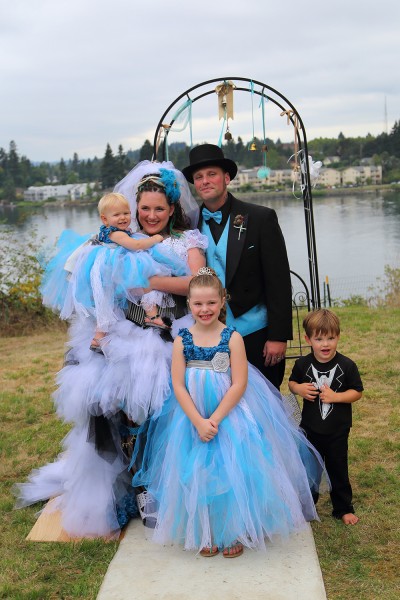 18. Serenade your spouse
We aren't sure, but we still think that Jeff is cashing in the brownie points he earned when he surprised Terri by playing "You Light Up My Life" during the cocktail hour. On the second verse, her daughter joined in. And on the final verse, the entire crowd spontaneously joined in chorus. It. Was. Awesome
19. Go unique with your catering (taco truck, gourmet pizza, crab bake…)
Wedding food doesn't have to mean chicken, salad, a roll, and mashed potatoes.  Get creative with your catering!  Food trucks can be a fun option, as can other alternatives like a backyard crab bake or bbq.
20. Embrace unexpected weather!
Weather is something that you'll have no control of on your wedding day.  Even if you plan your event during August, you could wind up with stormy skies and pouring rain.  Alternately, you could be planning for a chilly winter day and wind up with bright sun and nary a cloud to be seen.  My best suggestion, as a photographer, is to embrace it.  Have a backup plan if you're planning an outdoor wedding, and then just let it go.  Have fun, take some photos that show it off (good, bad, or ugly), and embrace the day you were given.  Stressing out about it beforehand (or worse, during the day) will only serve to ruin your otherwise perfect celebration.