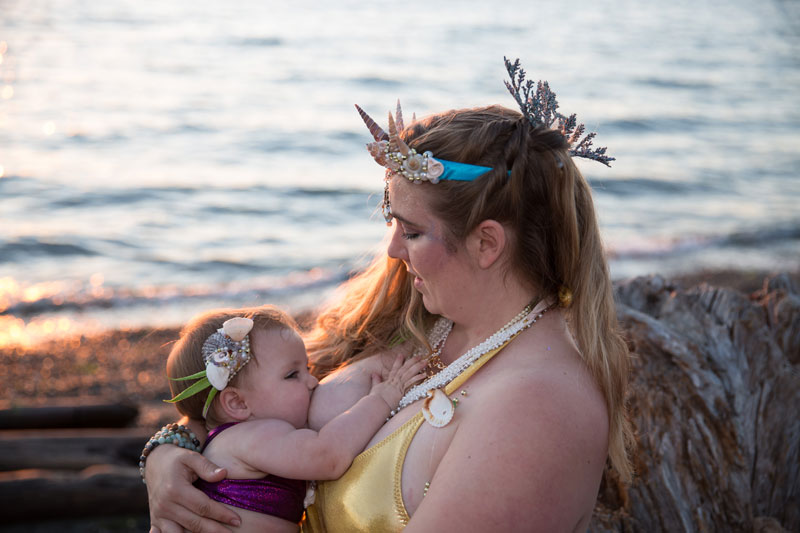 Darla and I have been friends for over a decade now. I took photos at her bridal shower, and played the role of the dreaded Uncle Bob at her wedding (yes, I admit it). When she got pregnant with her first little girl, we did maternity photos and later family photos. Throughout her journey into motherhood, Darla became a champion for breast feeding, baby wearing, and all sorts of gentle parenting. Those early days are past, and her oldest has turned into a lovely little girl.
Since then we've done several family photo sessions, and are always trying to come up with things that are fun and different. If I have something new I want to try, they're always willing to be my test subjects. And sometimes, the ideas don't even start with me… but wind up being incredible. That's how this mermaid shoot was born. Darla was pregnant with her second daughter, and we were talking about doing a nursing shoot to capture that special bond after the baby was born. Life got busy, and we didn't get to doing the session right away. While on a family vacation in Hawaii, she bought her oldest a mermaid tail from a local artist. And the seeds to an idea started to grow.
A couple months of planning later, and with some help from Darla's amazing sister in law (who created some amazing head pieces and other jewelry for the shoot), we had a beautiful sunset shoot out at Kayak Point County Park, right on Puget Sound. The photos are magical, and I'm so happy that my friends trust me with their visions to create a perfect storybook telling of these precious memories.
So now – the photos!!