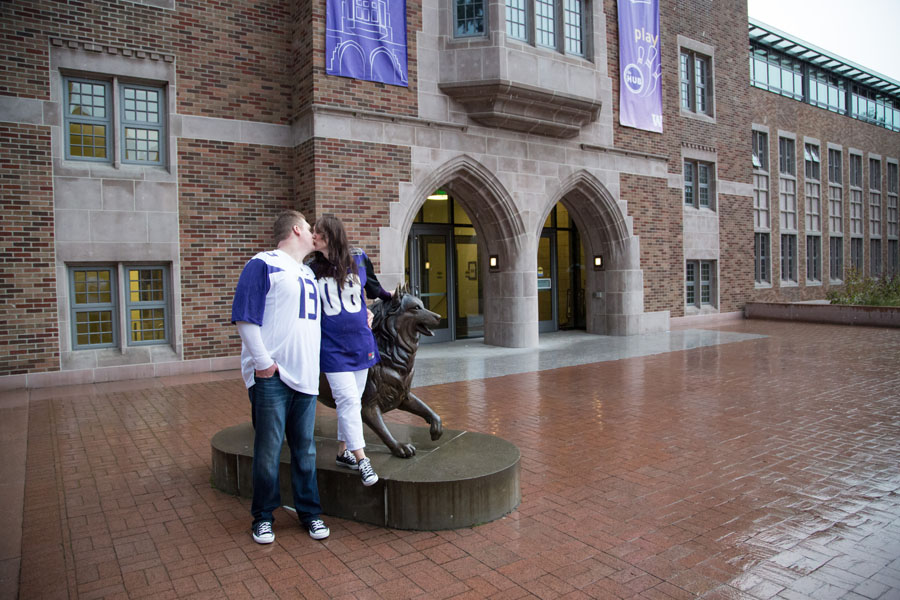 Jenn and Chad are big Huskies fans (well, Chad is, and Jenn is happily along for the ride!).  Over gelato a few weeks ago, they told me about their Save The Date jerseys and how they wanted to do their engagement session on the UW campus.  I was so excited!!  I love it when our clients really bring their likes, hobbies, and personalities to their shoot.  We planned for a lovely fall day, and unfortunately were met with rain instead.  BUT – they were amazing and dealt with the drizzle anyway.
The end result was awesome.  Campus was pretty quiet, which made for some great shots with architectural backgrounds that weren't overrun with students. The brick in red square had a nice shine from the water, and no photographer will ever complain about the soft light that clouds produce!  And really – campus fall colors were glowing this weekend, so timing was otherwise perfect.
Thanks to Jenn and Chad for putting up with the less-than-perfect weather!  #worthit  We're totally stoked for your wedding next summer.
And now, for the photos!