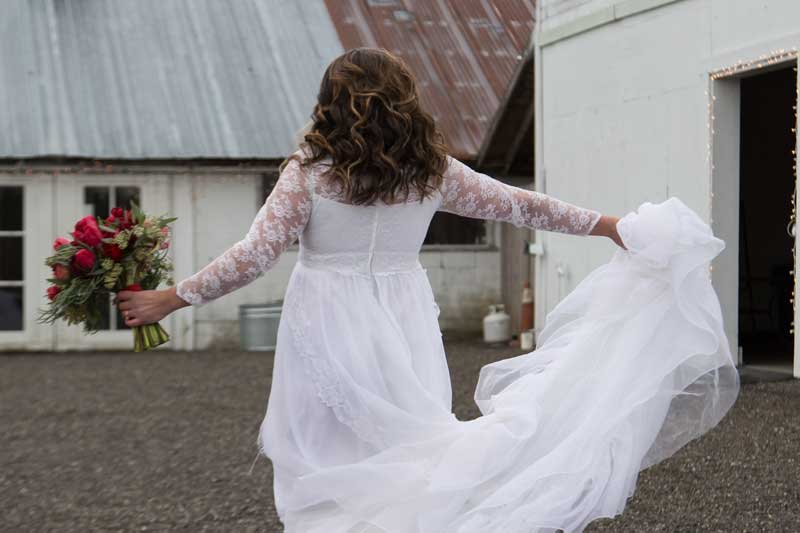 Valentine's Day is a day to celebrate those we love.  We break out the pink and red hearts and chocolates, give hugs and kisses.  For me, Valentine's Day has never been just about romance.  Sure, in my teen years it wasn't always fun to watch the popular girls giggling over what they boys had bought them.  But to me, it was about friends and family, because my mom (without fail) always made sure my sister and I knew how much we were loved on this day.  We were her Valentines, and she was ours.  So, I'm sharing this today – Valentine's Day – in memory of one of my favorite Valentines – my mom: the biggest fan of all things red I will ever know.
Almost ten years ago now, we lost my mom to ovarian cancer.  In some ways I consider myself lucky – we saw the end coming and had time to say our goodbyes. But the other side of the coin is watching your parent struggle, in pain, trying to hold onto hope for however long they have.  For us, it was about 5 years.  And then she was gone.  5 months before my wedding. 5 years before my daughter was born.  Way too soon.
It took us all a while to adjust, to go through her lifetime of belongings.  Some things were simple – her shoes that were way too small for us went to charity.  Her collection of Santas went to me, the angels to my sister, as she had told us she wanted.  Her favorite painting of the ocean went with my sister, while the hanging metal sculptures were something my dad chose to hang onto himself.  But other things weren't so easy.  Boxes or bags of things hid everywhere around their house, and bit by bit my dad would go through and pass on what he didn't need or want to my sister and I to choose what to do with.  This summer, after a long-overdue cleanout of his garage, a load of boxes and totes was delivered to my driveway.
My sister came over, and we began to sort. I'm digging through things, and I find her wedding dress balled up in a zipped bag meant for a set of sheets. I pull it out, and boy has it seen better days.  There's some dark stains down the front, and the fabric is so wrinkled it's hard to tell what shape it's in. But I wonder if it can be saved. It certainly can't get much worse. So, I crossed my fingers and tossed it in the washing machine with some OxyClean to soak. And it was like magic. Every stain? Gone. Yellowing from age? Gone. And washing relaxed the fabric to unveil a beautiful vintage gown.
Unfortunately, my mother was a very petite woman. A good 8 inches taller than her, I could never fit in the dress (it was too small for me by age 12) and my sister has the same problem. My daughter seems to be following in my footsteps, and at 4 years old already looks to be 7. So, with my family's blessing, I made the decision to give it a second life by passing it along to a friend who rents out vintage dresses and other wedding items. But first, I wanted to do something to honor my mom's memory.
In 1973, my mom and dad got married. My mom was 20, and my grandma wanted a big party of her own to show off to family and friends. That left little room for my mom to have an opinion that mattered. Despite her favorite color being red, she wound up with a color scheme straight from a 1970s kitchen – yellows, oranges, and a touch of avocado green. (Ah, the 70s…) The bridesmaids were delightfully awful in heavy floor length florals, and the gents dashing in their pale yellow tuxes. (At least my dad had a snazzy black and white tux – he looked classically handsome!) For the most part, my mom just went along with it all. But then there was her dress. It had beautiful fitted lace sleeves, a pretty boat neck empire bodice, and just a hint of ruffles. She loved it. I found her personal scrapbook in all the "stuff" that day, too.  She'd written "It was the dress of my dreams!" under one of only a few photos from her wedding that she included in it. The rest stayed in the formal album.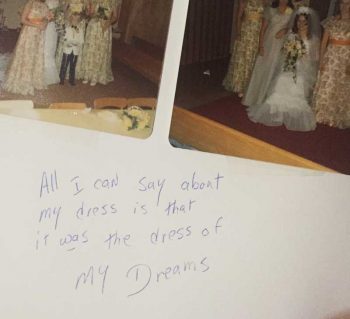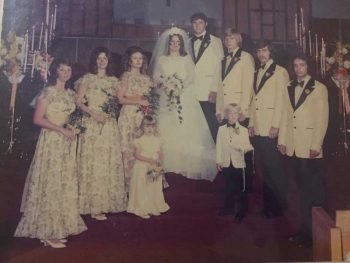 I decided that I wanted to take some photos of a model in the dress.  As a photographer, it felt like I was doing what I could to make my own memories with the gown.  In comes Caity from Love Blooms. I'd asked her if she could design some flowers for me, just something for my (as yet unfound) model to hold.  After chatting we discovered she might just be the right size for the dress. By some magic stroke of luck, the dress fit her like a glove. Not only that, but her hair is the same color and length that my mom's was back in 1973.  She was on board to do flowers AND model, and we get Nina and Jourdain from Olive and Opal to agree to come do hair and makeup. Amee, one of the owners of one of my favorite venues, Dairyland, agreed to let us use their space.
A plan hatches. Her favorite red flowers. Her wedding ring. The ruby ring I'd worn on my wedding day (that was made from her ruby earring). Her ruby heart necklace tied to a bouquet. My veil (since her's was long gone). Red lipstick (of course!). A chance for her dress to shine surrounded by some of her favorite things, as well as some of my own, in a beautiful setting. I'm pretty sure if my mom was still around, she would have loved it. And for me, it was just a lovely way to feel connected to a dress that represents so much to me before passing it along to be part of some new amazing wedding day memories.
See for Yourself!
A big shout out to Olive and Opal (and Caity for being my model as well as a fabulous florist)!  Without you, this wouldn't have happened.  Here's some behind the scenes of the pre-shoot beauty session.