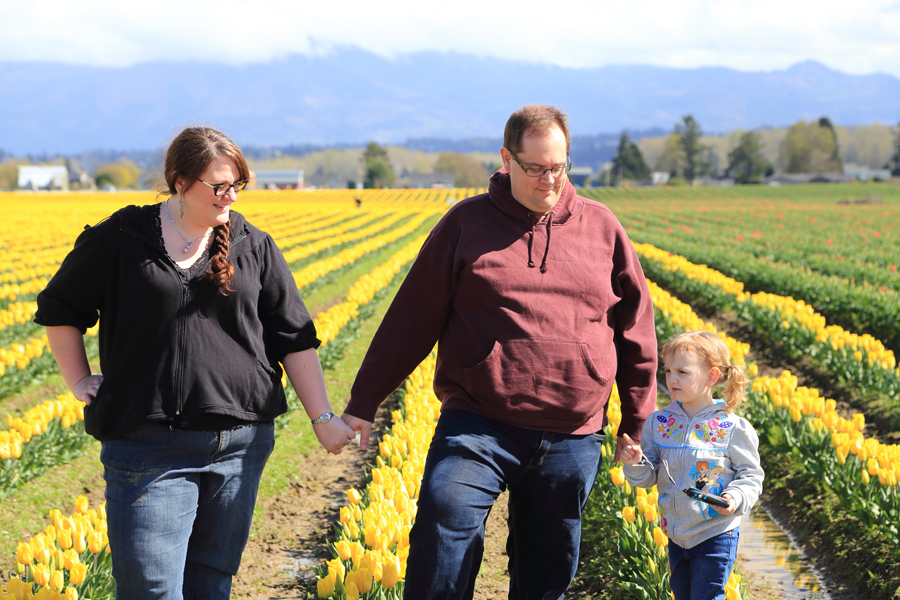 (Photo cred to my sister for the family pic!)
Every year since I've moved up to Marysville, I've made the point to take an annual trip up to Mt. Vernon in the spring to take in the sights and smells of the annual Skagit Tulip Festival.  I love the display gardens at Roozengaarde, so that's where we usually end up going.  This year was no exception.  When the weather last weekend turned out to be more cooperative than forecasted earlier in the week, we decided to head up and take advantage of the rain-free day.
Even though it was a couple weeks before typical peak tulip season, almost everything was already in bloom.  It has been an early spring around Seattle and the Puget Sound, that's for sure!  We let Rory jump in the muddy puddles, and gave her a waterproof point and shoot to take her own pictures with.  She was obsessed with it!  Meanwhile, I was giving my nephew pointers on how to use a DSLR since he's thinking of enrolling in photography classes next year.  We even ran into another photographer friend of mine.  Our toddlers were comparing images on the backs of their point and shoots, while her older son and my nephew were concentrating hard with their older model DSLRs.  We're starting them young!
After we finished up at Roozengaarde, we grabbed some lunch and then headed down to Seattle to catch the end of the bloom season for the cherry trees in the quad.  It was really quiet, and while I would have loved to have a few more blossoms, the lack of crowds made up for it.  It was such a great day!
Here's a couple of the photos Rory took with her point and shoot (she's three!)
Here's a couple photos my nephew took (I'm just starting to teach him how to use a DSLR)
And here's my photos from the day!