Every October, Mike and I cut all ties to reality for a few days and get away somewhere for our anniversary.  We've managed to do this every year since we got married (excepting the year I was so sick with morning sickness I couldn't bear the thought of leaving the house).
We've gone to San Francisco.
Whidbey Island.
Whistler, BC.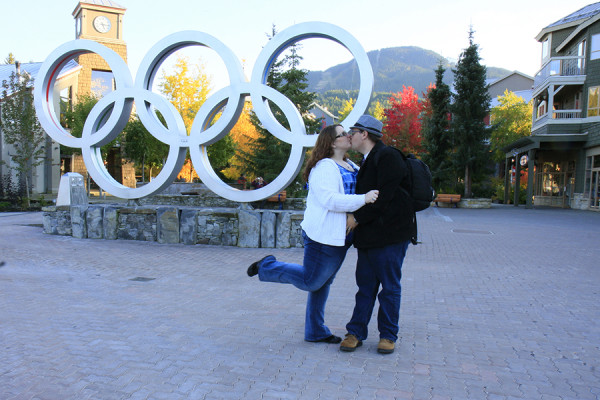 Las Vegas.
 
And this year was Portland!
First on the list was to visit the Saturday Market.  I bought a ring from the same guy I used to buy them from as a kid, and then we had pirogis for lunch.
Next we went up to Voodoo Doughnuts.  I'd never been there before, despite the fact that Portland used to be my old stomping grounds.  The wait in line was about a half hour, but it was worth it.
Mike got an old fashioned, we shared the maple bacon (which was disappointingly underwhelming for being so famous) and I died and went to heaven with my chocolate peanut butter oreo….
Then we decided to make the trek up to Powell's City of Books.  I saw this little gem along the way in the Park Blocks and had to take a pic.
After Powell's, we packed up and headed out to our hotel in Cascade Locks.  We had a relaxing evening, watched a few reruns of Big Bang Theory and snuggled.  The next morning, we woke up early enough to watch the sunrise.  That was kindof awesome.
After breakfast, it was out to the waterfalls!  This is a shot Mike took of Horsetail falls.
And here we are, smiling like nerds.
The obligatory kissy shot.
And my favorite photo I've ever taken of Multnomah Falls.  I think the lamp totally  makes it.
After a long morning of waterfalls, it was time for lunch.  I made Mike play me chess.  He hates to play chess with me, because I'm actually competent (unlike when we play video games other than Boom Blox… which coincidentally, he also hates to play with me).  Spoiler alert: I won.
After lunch, we checked in at our hotel – The Hotel Vintage Plaza.  It was amazing.  LOVED our room, and they even gave us a free bottle of wine because it was our anniversary.
A little R&R time later, and we went back out.  Who knew the roses at the Internation Rose Test Garden at Washington Park would still be blooming in mid October?  I was happy.  I got to play with my macro lens!
We ended the night by hanging out at Pittock Mansion to watch the twinkle of the night skyline come out.  I love the fact that my camera could still see Mt. Hood long after it was invisible to the naked eye.
And finally, we had to stop for lunch on our way home.  Because for me, no trip to Portland is complete without Gustav's fondue.  :)