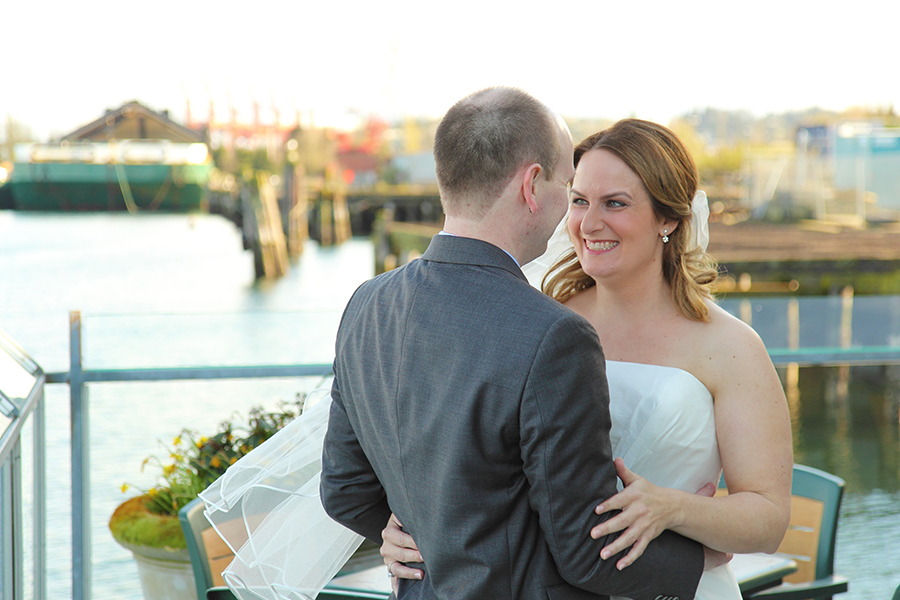 You've pictured this moment since you slipped on your engagement ring for the first time.  You've dreamed about it since you were a little kid looking through your parents' wedding album.  Watching "Say Yes To The Dress," you notice every bride buying $10k dresses talks about it.  It's that moment where you first see each other all decked out for the wedding, and for most people, it's a big deal. If you're one of those people trying to decide whether or not that moment will happen during the ceremony, or before, you aren't alone!
During consultations with our couples, one of the questions I always ask is whether or not you plan on seeing each other before the ceremony.  It's what many in the wedding industry refer to as a "First Look."  Often times, there is a bit of debate or uncertainty, and we wind up going over the options.  So, here's what we see.
Walking Down The Aisle Pros:
Tradition.  Remember that daydream you had when you were 5?  I bet you it involved one of you walking down the aisle, the other standing up front, and being overwhelmed with the moment.  It can be hard to let go of those expectations of what the moment *should* be.  And for some people, having that moment during the ceremony is really important spiritually.
Superstitions.  They can be hard to dispel.  Even though the origin of not seeing each other before the ceremony had nothing to do with luck, there's still a cultural tendency to push that seeing each other beforehand is bad luck.  This is especially true in more traditional and conservative circles (though even the most non-traditional of couples can feel this, too!).
Start Time: You aren't going to have a lot to do before the ceremony, so you'll not need to be ready as early.  This could be a huge deal for early afternoon or morning weddings, giving you a little more time for your beauty sleep.
First Look Pros:
Privacy. Does the fear of tripping on your dress or crying in front of all your guests keep you awake at night?  When you do a first look, you aren't going to have much of an audience (outside your photographer and any friends/family that you allow to be around).  You can make the moment just about you without the stress of being watched.
Romance: Would you love nothing more than to be able to hug and kiss your fiancé as soon as you see them, or are you shy about PDAs?  A first look gives you the freedom to have that moment be intimate and romantic, without having to dive immediately into the public ceremony in front of all your guests.
Time.  Seeing each other before the ceremony opens up a lot of flexibility in your wedding timeline.  You're able to take care of all (or most) of your portraits before the ceremony, which means that you don't have to disappear for an hour or more afterward.  You get to spend time with your guests and enjoy your cocktail hour or go immediately to dinner.
Portraits.  There's no doubt about it – as your wedding day progresses, your hair and makeup are going to look less pristine, and you're going to get tired and sweaty.  If you do a first look, you'll be able to get the freshest looking you for your portraits since you can do them before the wedding ceremony.  You also have the option to make use of really dramatic locations or settings that may not be possible between your ceremony and reception.
So, what do WE think?
We love doing first looks.  We're not going to pressure you, though, because we feel it is a deeply personal decision, and we respect that.  Hopefully we've given you some things to think about to help you decide whether tradition trumps convenience, or vice versa.  If you do decide to have a first look moment at the beginning of your wedding day, rest assured that we'll help you find a great spot to make it happen, and we'll be there to capture all the magic of the special moment.  Because whether it happens before or during the ceremony, it really is a big deal!